Big ETN data file
If you are installing your own ETN  (electroneum) wallet for keeping or for mining, you have to download all the blockchain and nowadays it's become very large. as per today (september 24th 2018) we have a mdb file which is about 37GB large. So getting uptodate is very time consuming and in many cases it gets to multiple failures.
Collect full database file
In addition you have to consider that the less performant cpu you have, the more time you need for getting uptodate. For all these reasons we decided to share the fully created blockchain. You just have to download locally, untar and put into the relevant directory. Then you will have to sync just the difference from today on.
download data.mdb ETN blockchain file
Hope to have done a service for the ETN community. Please contact me for any info about this or regarding setting up your linux wallet consulting.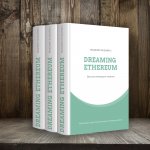 Download free eBook "Dreaming ethereum"
Get this new eBook with important informations about blockchain, wallet generation and tips to make your digital funds secure and safe.
Get it now for free!
---