The ethereum network will be under scheduled upgrade at block 7'280'000 aproximately 28 feb 2019. The exact date/time depends on block times. The original upgrade Constantinople was postponed, do you remember? this new upgrade shall fix test networks, for example Ropsten.
I am a user what have i to do?
if you are a holder and you keep funds into third parties wallet (for example exchangers as Kraken, Coinbase, etc) or into Metamask or Myetherwallet or hardware wallets as Ledger nano S, etc you will have nothing particular to do. You should not worry in any way. If your provider will push some changes it will advise you on any additional steps. On web wallets or exchangers, for example, they will take care of software fixes. In case of hardware wallet, it may be possible that the supplier will decide a software upgrade on the wallet itself. in that case the notice will be provided as connecting to the device next time after the upgrade.
i am an operator or miner
in this case you shall download the latest version of your Ethereum client and install them on your system. Consider the following:
Latest geth client (v1.8.23)
Latest Parity client (v2.2.10-stable)
Latest Harmony client (v2.3 Build 74)
Latest Pantheon client (v0.9.1)
Latest EthereumJS VM client (v2.6.0)
Latest version of Nethermind client (v0.9.4)
Latest version of Ethereum Wallet/Mist (v0.11.1)
if you are miner or operator and dont upgrade the software you will not be able to run new transactions on the network after the upgrade. So stay tuned.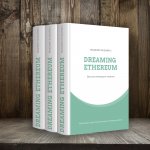 Download free eBook "Dreaming ethereum"
Get this new eBook with important informations about blockchain, wallet generation and tips to make your digital funds secure and safe.
Get it now for free!
---