Gdax finally added EUR to BCH trading
After weeks of start and stop with bitcoin cash, it now seems finally open all functionality on gdax for trading bitcoin cash with euro and viceversa. As we all know when a new token is listed on coinbase gdax, we immediately see an incresed grow of interest in such a coin and a higher level of volume in trading that coin.
Coinbase already open to trading bitcoin cash with usd some days ago, but now all operations seem completed and now you can easily purchase this bitcoin fork coin with euro fiat. At the moment of this article, bch was trading at 1335,70 eur per bitcoin cash. The order book is rich of orders and the trade operations seem very high on this coin.
For everybody who thinks that bitcoin cash could be a good alternative to standard bitcoin, it is possible to start investing in a secure manner, purchasing new bitcoin cash coins for storage in a hardware wallet as for example a very secure ledger nano.
from coinbase words, we read the following
Bitcoin Cash was created by a fork on August 1st, 2017. All customers who held a Bitcoin balance on Coinbase at the time of the fork will now see an equal balance of Bitcoin Cash available in their Coinbase account. Your Bitcoin Cash balance will reflect your Bitcoin balance at the time of the Bitcoin Cash Fork, which occurred at 13:20 UTC, August 1, 2017.
So now, at just some months of distance from fork that created bitcoin cash, coinbase, the largest exchanger in the world, is now ready to trade bitcoin cash with us dollars, euro and bitcoin standard. It's very possible that we can see an increase of volumes of trading for BCH in the next weeks. Maybe this also a good reason to invest in BCH?
What we can say is that bitcoin cash has all potentialities to become a good and well used coin, very good also as investment purposes of just for making and receiving payments on the net. This fully adoption from coinbase is giving the coin more and more power to this coin.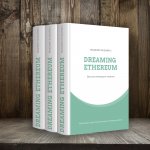 Download free eBook "Dreaming ethereum"
Get this new eBook with important informations about blockchain, wallet generation and tips to make your digital funds secure and safe.
Get it now for free!
---