Private and public keys
Private and public keys on ethereum blockchain, what are they? It's very important to understand exactly what we mean for crypto keys in the field of blockchain matters and how they are used to work in the network. Keys are needed to own coins and sign transactions on the blockchain. Creating an ethereum account is creating a key pair: public key + private key (as always in cryptographic matters).
Keys genesis
I propose to you, to make a test, using royal fork tools for this. Let's make an experiment, in order to better understand which parts are in the game and how they work. Let's suppose that my mnemonic seed passphrase is:
mixed rate inmate again kitchen toy they crush just thought noble north
therefore i will have a private key:
5154256b376a9a93a23792af6fe7a9d4f32143ddea417b14f01e33422255ec6e
and a public key
5916c46ed2dc832a4fa54d80b4943e0b350ab257ed5c62aeaae1179593e8ab53

714d7893e1d1aafc9f386c5b9ad66b8c3125984fdac9cc80a61598c10aae494c
ethereum address is therefore:
0x3567a61834114B2FbB5E397f7d7ed674e3229DBb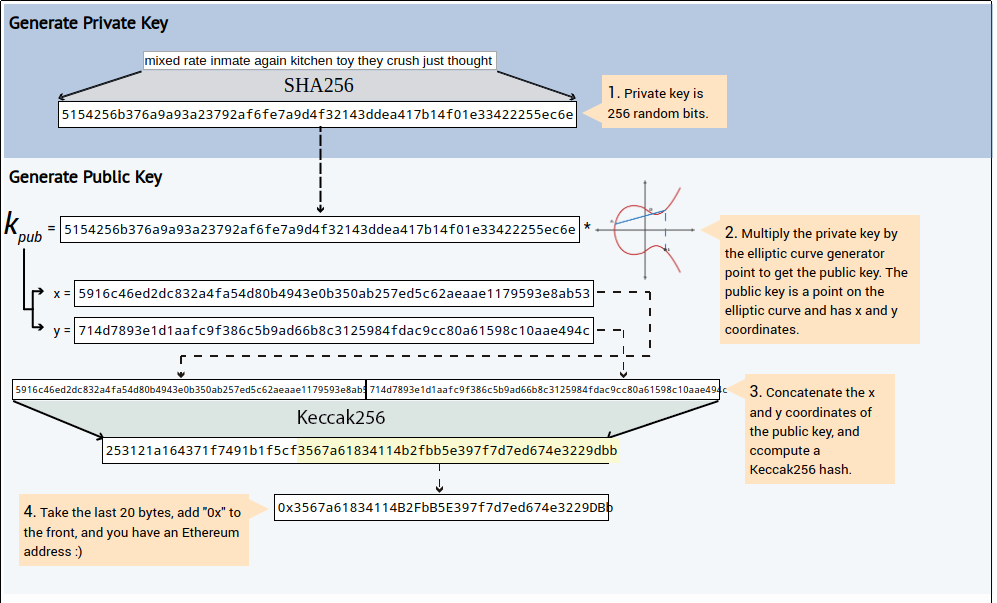 The address is specified when sending funds to that account, while the private key is necessary to sign transaction sent from the account.
The private key is the only which can sign operations in the account. therefore losing it means losing all funds associated with such a key. Private key is the most important thing of your ethereum access and having it means having access to the associated funds. You can use a software wallet, hardware wallet or a paper wallet for those purposes, but in any case you must keep safe the private key.
Check the private key
With a linux command line we can appreciate better how the private key is generated from the passphrase seed:
root@dev:~/# echo -n 'mixed rate inmate again kitchen toy they crush just thought noble north' | sha256sum
5154256b376a9a93a23792af6fe7a9d4f32143ddea417b14f01e33422255ec6e –
or you can install openssl on your linux console and launch the following command to get same result
root@dev:~/# echo -n "mixed rate inmate again kitchen toy they crush just thought noble north" | openssl dgst -sha256
(stdin)= 5154256b376a9a93a23792af6fe7a9d4f32143ddea417b14f01e33422255ec6e
As you can see i get back the correct private key as a sha256 sum and all the calculation is confirmed. You can enjoy yourself with other tests on the command line. Linux is always the best tool to work with for study and understanding and obviously also to develop.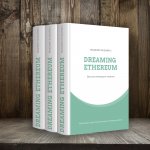 Download free eBook "Dreaming ethereum"
Get this new eBook with important informations about blockchain, wallet generation and tips to make your digital funds secure and safe.
Get it now for free!
---
Comments
comments