At block 100k savenode (sno) masternode collateral is increasing from 8000 SNO to 16000 SNO. this will happen in around 2 days from now. Reward seems to remain at same level, but reward frequency seems that will become faster.
So what to do? if you dont have a running masternode and you want to setup one, you just have to collect 16000 sno and create a new masternode. There is a new masternode software and new wallet to be installed.
If you, instead, already have a running masternode, you will have to do as follows:
wait near the moment of arriving to block 100k
unlock the transactions connected to masternode/s. To do this, go into wallet, masternode.conf file and comment out the masternode definition. Then restart the wallet
in this way you will unlock the old 8000 sno funds.
now create a new transaction with 16k sno
go back into masternode.conf file on the wallet and configure with the tx hash and tx id, while masternode private key remains the same. restart the wallet
go to the vps and update the software and reboot the daemon
go back to the wallet and start the masternode from masternode view
check if masternode is running on vps side with "savenode-cli masternode status" command
that's all
We cannot know if this kind of masternode will remain a good investment or not. But if you want to run this kind of MN again after the raise of collateral, you have to do the steps described above.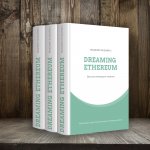 Download free eBook "Dreaming ethereum"
Get this new eBook with important informations about blockchain, wallet generation and tips to make your digital funds secure and safe.
Get it now for free!
---
Comments
comments