This is a precious and full howto to start staking embercoins with your computer with Linux or with a configured VPS. You can purchase a preconfigured vps at tritema.ch or you can configure your computer. Please bear in mind that after configuration, computer must be run 24h 7d to really get profit from staking. Infact there is a good reward for staking embercoins from your computer, so it's easy to do and worth it. If you use a VPS it must be at least 4 vcpus and 4 GB ram for proper working.
Initial setup with GUI
We are supposing you already installed a Linux Ubuntu 16.04 with a minimal setup. Now you have to install and configure graphical UI since the wallet need UI to work properly. Here how to do:
apt-get update

apt-get install ubuntu-desktop xfce4 tightvncserver
it takes some time to install all. At this time you must add a non-priviledged user let's call larry
adduser larry
and set password.
now login as larry. Try to start for a moment vncserver with the simple command
vncserver
then stop it again with
vncserver -kill :1
now edit the file in larry's home .vnc/xstartup and put inside only the following content
xrdb $HOME/.Xresources
startxfce4 &
If it starts without errors, you can use a vnc client to connect to it, for example remmina. When connect (to session 1) you will be inside the machine as larry and now you can open a terminal to install what is needed for embercoin. To have more security in vnc connection it's better to make a SSH tunnel. On your client machine (the machine where you connect to the ember server), launch the following command
ssh -L 5901:127.0.0.1:5901 -N -f -l root remote_ember_server_ip
then open remmina and connect to localhost, instead that to the remote machine itself
Embercoin wallet download & install
go to: http://embercoin.io and go to download page of the wallet. download qt version for linux. Then untar and install the package with
sudo dpkg -i ember-qt_1.1.4.0-1_amd64.deb
if all goes fine, you are ok. if an error of dependancies arises, then you can fix with
sudo apt-get -f install
now all should be fine. On your desktop you should find the launching icon on accessories menu, then you can run first time. When launched if will say that no network connection is on. This is normal because you have to configure the nodes list. To do this you have to go on home directory of your user (larry), inside the directory .Ember (an hidden directory) and create an empty text file called ember.conf in which you have to put the nodes list, here it is:
addnode=104.236.150.155:10024 addnode=95.183.12.244:3584 addnode=158.69.248.93:48696 addnode=136.243.40.220:47210 addnode=217.175.119.125:28439 addnode=94.130.14.168:37970 addnode=85.175.216.200:10024 addnode=118.148.84.130:55758 addnode=149.202.40.136:57650 addnode=151.177.17.117:9573 addnode=91.151.111.250:63028 addnode=158.69.248.93:45690 addnode=91.134.166.76:10024 addnode=88.148.11.141:10024 addnode=145.130.170.169:10024 addnode=195.181.241.146:10024 addnode=78.66.36.36:60550 addnode=213.154.231.39:10024 addnode=24.151.95.186:10024 addnode=185.165.168.137:10024 addnode=88.113.210.143:61797 addnode=78.70.234.88:7374 addnode=85.53.81.75:20349 addnode=207.148.133.74:52929 addnode=92.37.255.28:28372 addnode=70.187.57.150:10024 addnode=213.55.176.156:58916 addnode=184.164.129.202:64099 addnode=90.134.189.126:10024 addnode=51.255.6.35:30009 addnode=91.200.160.46:11050 addnode=5.135.29.200:10024 addnode=73.9.181.217:18155 addnode=71.87.238.84:10024 addnode=95.183.12.244:10024 addnode=51.255.6.35:10024 addnode=51.255.13.23:10024
at this moment close the file and save. Then run again ember. In few moment the client should connect and retrieve data (it will takes some hour) and you can check inside the debug log file if everything is proceeding smoothly. If some connection error is shown, means that there is something wrong to correct.
Purchase ember coins to start staking
Now, when sync is completed, you are ready to stake embercoins. For staking you must have mature embercoins in your wallet. The more you have, the more reward you will receive for staking. It's suggested to have no less than 1 million. Where to purchase? You can purchase at cryptopia.
There you can purchase with bitcoin or litecoins (exchange) and then transfer the coins to your just installed wallet. The transfer of coins is as usual with a transfer address that you can find in your wallet. Please bear in mind that reward for staking can arrive from 1 to 5 days later if an enough amount of ember was in your wallet during staking. Doing staking with a too low balance can lead to no reward.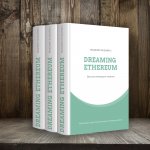 Download free eBook "Dreaming ethereum"
Get this new eBook with important informations about blockchain, wallet generation and tips to make your digital funds secure and safe.
Get it now for free!
---