BTCPrague will bring leaders in the bitcoin community from throughout the world to the Czech capital, to map the future of digital currency. The largest bitcoin conference in Europe will be held from June 8 to June 10.
I had the opportunity to speak with Martin Kuchař, co-founder and co-organizer of BTC Prague, personally in Italy during a meeting about Lightning Network. It was a pleasure to talk about the organization of the event in Prague and the important occasion that this event represents for the entire international Bitcoin environment.
I will be present on site to document the event and gather information and opinions from all the insiders present. All will be documented on social media channels and on this blog. So stay tuned for the event.
A projected 10,000 attendees will have the opportunity to hear from and meet with more than 100 leaders in the BTC community and network with more than 100 companies. In addition to the speakers and exhibition space, many side events are planned, including dev/hack/day.
Opportunities
It's an important occasion in which many industry professionals can meet and share ideas and information about Bitcoin, current projects, future developments, and maybe even have the chance to meet possible investors or new members of their teams.
In addition to the fascinating talks and presentations, there will be plenty of networking opportunities with like-minded individuals and industry leaders. You'll have the chance to ask questions, share ideas, and connect with people who share your passion for Bitcoin.
BTCPrague, an international Bitcoin event, can offer a wide range of meetings and networking opportunities for individuals and organizations interested in this innovative technology.
Expert presentations and talks: These meetings are typically led by industry experts, thought leaders, and academics who will present their research, insights, and opinions on various topics related to Bitcoin. These talks can cover a wide range of subjects, from technical aspects of the blockchain to investment opportunities and regulatory considerations.
Workshops and training sessions: For those looking to gain a deeper understanding of Bitcoin, these meetings can be particularly valuable. Workshops and training sessions are typically led by experts and are designed to provide attendees with practical knowledge and skills related to Bitcoin and blockchain technology.
Networking events: Networking events provide an opportunity for attendees to meet and connect with other individuals and organizations interested in Bitcoin. These meetings can take the form of informal social events, more structured speed-networking sessions, or organized group activities.
Exhibitions and vendor demonstrations: Exhibitions and vendor demonstrations allow attendees to see the latest products and services related to Bitcoin and blockchain technology. This can include hardware wallets, software solutions, and other innovative products and services.
Roundtable discussions: Roundtable discussions are typically led by industry experts and provide a forum for in-depth discussions on specific topics related to Bitcoin. These meetings are designed to be interactive and engaging, allowing attendees to share their opinions and ask questions in a collaborative setting.
Martin Kuchař says:
We may be a small nation of only 10 million, but the Czechs have been leading the way to financial freedom through Bitcoin from the very beginning. The first BTC mining pool, SlushPool, Trezor, the first hardware wallet, and bip39, used to create encryption keys for hardware wallets, were all developed here. We are also the home of the world's largest BTC ATM manufacturer, General Bytes, the world's first mining device custom firmware by Braiins, and Tropic Square, the first open-source transparent secure chip that will be launched from here shortly. Our beautiful city is truly the bitcoin capital of Europe.
Fresh from their successful ChainCamp, the biggest non-English speaking conferences in the world, with 2,000 visitors to the Czech Republic's first BTC get-together, the organizers of BTC Prague have already secured more than 70 high-profile speakers.
Martin Kuchař adds:
Top industry leaders are coming to Prague to discuss the future of money, technology, and freedom. With superstar speakers like Michael Saylor, Adam Back, and Anita Posch, this event promises to be a game-changer with exclusive insights and cutting-edge ideas from the world's leading voices in bitcoin, freedom, and innovation," said Kuchař. "We have 4 main topics for the main stage: Technology, sound money, freedom, and community.
Confirmed speakers include
Investor Michael Saylor in his first European appearance, talking about the future and investment case for bitcoin
Technologists Adam Back and Jan Čapek talking about innovations in the mining industry, and Pavol Rusnák and Marek Palatinus talking about open source and freedom aspects of money
Entrepreneurs Jameson Lopp, Giacomo Zucco, Roya Mahboob, Sophie von Laer
Researcher Peter Todd talking about possible attack vectors for the bitcoin network
Philosophers Robert Breedlove, Aleks Svetski, and Knut Svanholm discussing low time preference, warrior culture, and praxeology
Podcasters Roman Reher, Lunaticoin, Jakub Vejmola, Rogzy, and Rikki, the best and most influential European bitcoin podcasters
Human rights activists Lyudmyla Kozlovska, explaining how bitcoin helps to raise funds against oppressive regimes, and Peter Young showing a different way of creating functional societies
Educators Anita Posch and Mahassin L. Quadri sharing their experiences about educating in Africa
Economists Rahim Taghizadegan and Matthew Mežinskis sharing their views on economics of today's and tomorrow's world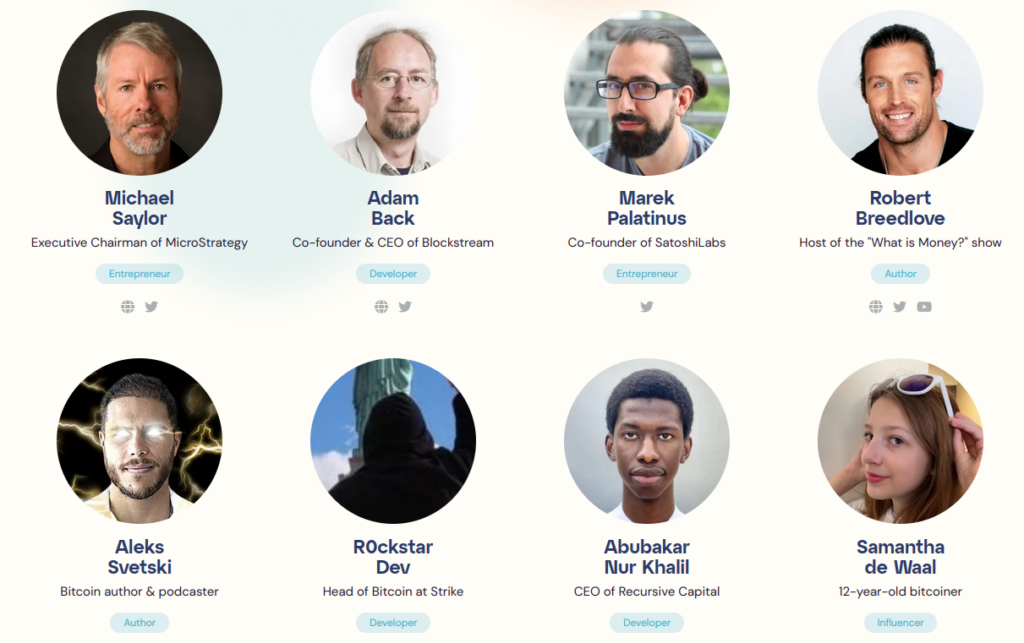 Full list of speakers here: https://www.btcprague.com/speakers/
We're bringing the biggest bitcoin voices to Europe. We have the whole spectrum of the bitcoin community: entrepreneurs, OG researchers and CEOs, authors, bitcoin influencers, philosophers and educators, developers, MCs, and freedom fighters coming to BTC Prague, bringing the bitcoin community closer together.
Companies space
BTC Prague will also feature an exhibition space for companies to connect and network. About this, Martin Kuchař says:
We expect more than 100 companies will be here, with plenty of space and time in the expo area for attendees and companies to connect, talk, and network. The exhibition space will be a place for people to discover the wide range of companies in the bitcoin ecosystem, to do business, find a job, or learn about the bitcoin community.
Developers
Prior to the start of the conference, on 7 June, the organizers will hold dev/hack/day. Organized with Pavol "Stick" Rusnák, Co-founder of SatoshiLabs, dev/hack/day will be a chance for developers to build and explore. More than 500 developers are expected to attend.
About freedom and self-sovereignty, Martin explains:
We believe in freedom, self-sovereignty, equity, and decentralization. In knowledge, innovation, and progress. We value future over the present. We believe in healthy, thriving economies and societies. We believe all above will benefit from having good money again after decades. We believe in bitcoin
Whether you're a seasoned investor, a curious novice, or simply interested in the latest developments in fintech, this event has something for everyone. You'll gain a deeper understanding of the technology behind Bitcoin, learn about its applications in real-world scenarios, and discover how it can transform industries and even our daily lives.
About BTC Prague
With more than 10,000 attendees projected, the inaugural BTC Prague will be the largest conference dedicated to bitcoin in Europe. Attendees will have the opportunity to learn from more than 100 speakers, including business leaders, developers, influencers, and educators from all over the world. More than 100 companies are projected to exhibit in the exhibition hall.
So, mark your calendars and join us for what promises to be an informative and inspiring event. Whether you're looking to gain a deeper understanding of Bitcoin or just curious to see what all the buzz is about, this is an event you won't want to miss!
Ticket discount
Use the code "MASSMUX" to get 10% discount on all kinds of tickets you can purchase on https://www.btcprague.com/ . Do not wait anymore, grab your ticket now.