Telegram software di messaging
Come si sa telegram è un popolare sistema di online messaging nato per android. Ci sono ora client disponibili per ogni piattaforma. Su telegram è possibile scambiarsi messaggi cifrati con allegati audio e video e quindi ogni tipo di file e documento. Quindi è molto utile anche per l'organizzazione personale.
Tuttavia la domanda sorge spontanea: se dentro una chat (history) creata col mio cellulare ho dei dati e file importanti che voglio conservare, come faccio? Posso scaricarli dal server di telegram e tenerli archiviati dal lato mio in un mio storage? La risposta è si
Procedura per il download delle chat e backup
Ciò che occorre è innanzitutto il telegram client (ovvero un tool alla riga di comando per linux) che si installa facilmente sulla propria distro. In questo caso abbiamo usato una normale ubuntu. Ecco come fare:
scaricare il client da github: https://github.com/vysheng/tg
installare le dipendenze per ubuntu:

 sudo apt-get install libreadline-dev libconfig-dev libssl-dev lua5.2 liblua5.2-dev libevent-dev libjansson-dev libpython-dev make 


entrare nella dir tg/ e complilare il client con:

 ./configure
 make

ora scaricare, da dentro la directory tg/ sempre da github il telegram history backup:

https://github.com/tvdstaaij/telegram-history-dump

a questo punto aprire due consolle sul proprio computer. con la prima lanciare il client con il comando:

bin/telegram-cli --json -P 9009 (assicurandosi di trovarsi dentro la dir tg/ )

nella seconda consolle (dentro tg/telegram-history-dump/ ) lanciare il comando:  ruby telegram-history-dump.rb
il file di configurazione è tg/telegram-history-dump/config.yaml . Per default non vengono scaricati gli allegati delle chat. Per fare in modo che li scarichi occorre modificare le apposite flag dentro il file di configurazione. I dati saranno scaricati in output/ e output/media . I dati sono in formato json mentre i file sono nel formato corrispondente del file (jpg, ecc).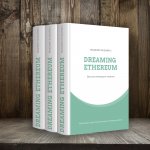 Download free eBook "Dreaming ethereum"
Get this new eBook with important informations about blockchain, wallet generation and tips to make your digital funds secure and safe.
Get it now for free!
---