La preview di facebook
Quando si prepara un post sul proprio wordpress, oltre a scrivere opportunamente il testo, si inserisce anche una immagine identificativa del blog stesso (featured image) che deve rappresentare e descrivere a colpo d'occhio il contenuto del proprio post. Poi, una volta redatto l'articolo, esso deve essere postato sui vari social, tra cui anche facebook, anche questo è normale e naturale. Come fare questo? Con facebook è semplice, basta incollare l'url completo del proprio articolo e facebook automaticamente provvederà a fare scraping della pagine estraendo un excerpt dell'articolo cosi come l'immagine in evidenza. Avevamo già fatto qualcosa di simile con twitter, nella pagina dedicata alla twitter card.
Problemi nello scraping di facebook
A volte succede qualcosa di inaspettato, ovvero che facebook non associa correttamente l'immagine oppure non la fa comparire del tutto, con quindi un risultato molto deludente per il nostro post che risulterebbe brutto da vedere e poco attrattivo, mandando in fumo tutto l'impegno a prepararlo. Quindi bisogna fare in modo di evitare questo problema e che vengano catturati correttamente i contenuti del nostro post sul nostro wordpress
Come risolvere
Ecco come risolvere, per rima cosa andare alla url ufficiale dei facebook developers per testare a lì come risulta lo scraping della pagina. L'url di riferimento è il seguente
facebook debug: https://developers.facebook.com/tools/debug/sharing/
inserire il nostro url e cliccare. Se ciò che vediamo non è il risultato corretto che ci aspettiamo, allora dobbiamo dire a facebook di correggere l'output. Per fare questo clicchiamo sulla tab "strumento di invalidamento batch" e inserisci nuovamente il tuo url e clicca sul tasto. A questo punto torna dove ti trovavi prima per rifare un'anteprima. Tutto dovrebbe essere ora normale e il preview si dovrebbe vedere correttamente. Se è cosi ora puoi inserire con fiducia il tuo post sulla timeline di facebook andando avanti con il tuo obiettivo.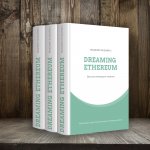 Download free eBook "Dreaming ethereum"
Get this new eBook with important informations about blockchain, wallet generation and tips to make your digital funds secure and safe.
Get it now for free!
---