Maggiore attenzione con twitter card
Avete presente la nuova funzionalità della twitter card?  Questa funzionalità nuova di twitter permette di rendere molto più accattivante una twittata e quindi di ottenere piu' attenzione da parte del proprio pubblico. Quindi si tratta di una funzionalità assolutamente necessaria per i propri tweet. Qui vediamo come si implementa a partire dal proprio blog wordpress.
La twitter card è molto importante perchè permette di offrire un tweet molto più accattivante, che salta all'occhio per via dell'esposizione bella da vedere della grafica (foto o altro) che permette al lettore che scorre la timeline, di essere subito attratto da quel post e quindi agire secondo i presupposti di marketing dell'autore.
Normalmente quando postiamo, inviamo il link di un post di wordpress. Affinchè il post di wordpress presenti su twitter la twitter card, occorre che wordpress sia opportunamente configurato per inviare nell'header gli appositi metadati. Come fare per fare questo?
Installare e configurare YOAST SEO plugin
Per prima cosa, per fare le cose più facili, andare sul proprio wordpress e installare il plugin yoast seo. Questo plugin è una suite di tool molto completa per seo e social. Anche nella versione free è di estremo aiuto per tutti i nostri scopi di marketing.
Una volta installato il plugin, andare nella dashboard e seguire la procedura di configurazione guidata, molto semplice, che permette di configurare tutti gli aspetti del plugin sull'installazione di wordpress corrente, tra cui nome sito, url dei social, tipo di sito, ecc. Tutto molto intuitivo e semplice.
Terminata la configurazione, andare in yoast seo -> features e abilitare le "advanced features" e salvare. Ora, sempre nella configurazione del plugin, andare in social -> twitter e settare a enabled la voce "twitter card metadata", inoltre dalla tendina in "default card type to use" settare "summary with large image" e salvare. Ecco ora siete pronti.
Controllare che la twitter card sia ok
Potete fare un test prendendo l'url di un post con una "featured image" e controllando che tutto sia ok, da questo tool online che è proprio il validatore ufficiale di twitter cards di twitter.
twitter card validator https://cards-dev.twitter.com/validator
Qualora il preview mostri la twitter card, ma dia un quadrato grigio invece della immagine featured, allora significa che non ha effettuato correttamente il grab del file, quindi cliccare nuovamente su preview di modo da farglielo riprendere. A questo punto dovrebbe vedersi il preview corretto della card. Da ora in poi ogni volta che metterete un url di un vostro post di wordpress su twitter, lui creerà automaticamente la twitter card.
Per ogni maggiore consulenza in merito non esitate a contattarmi.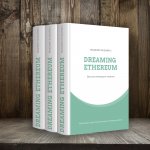 Download free eBook "Dreaming ethereum"
Get this new eBook with important informations about blockchain, wallet generation and tips to make your digital funds secure and safe.
Get it now for free!
---