We are bitcoiners and we love this coin. But we are usual to oppositors like banks, governments and so on. For example JP Morgan which used to comment bitcoins in any way and for any reasons. Here below some new reports from that institution. In any case always being skeptical is a must with these guys. But it is interesting what they are reporting in these days about our loving sweet coin.
Disclaimer: the data and images contained in this page (post) and in all posts in the category "press reviews" are linked from original website. Only a short extract of the images and contents are recovered from the website. A link allows the visitor to read the full article on the original website. We decline any responsibilities regarding the contents of the linked pages and data.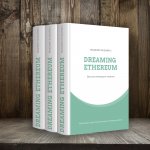 Download free eBook "Dreaming ethereum"
Get this new eBook with important informations about blockchain, wallet generation and tips to make your digital funds secure and safe.
Get it now for free!
---

GUTE-URLS
Wordpress is loading infos from coindesk
Please wait for API server guteurls.de to collect data from
www.coindesk.com/jpmorgan-repor...