Again and again. The cryptocurrencies exchangers and operators list who gets hacked is growing day by day. Just some months ago was the moment of nicehash, that was robbered of a huge amount of bitcoins. Now italian cryptocurrencies exchange bitgrail has paid a great bill:
"… Internal checks revealed unauthorized transactions which led to a 17 million Nano shortfall, an amount forming part of the wallet managed by Bitgrail," the site post stated. "Today a charge about those fraudulent activities has been submitted to the competent authorities and now is under police investigation."
Please learn everybody and do not leave your coins on exchangers. They are very risky because you dont own the private keys of your digital assets. Keep them safe in a hardware wallet. It's better to be serious and do not underestimate the risk of leaving money on exchangers. Please read this article on private wallet importance  for example
Below some articles about that
Disclaimer: the data and images contained in this page (post) and in all posts in the category "press reviews" are linked from original website. Only a short extract of the images and contents are recovered from the website. A link allows the visitor to read the full article on the original website. We decline any responsibilities regarding the contents of the linked pages and data.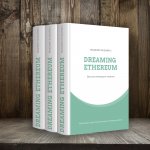 Download free eBook "Dreaming ethereum"
Get this new eBook with important informations about blockchain, wallet generation and tips to make your digital funds secure and safe.
Get it now for free!
---