Phoenix is a new generation bitcoin lightning network wallet released by ACINQ a french bitcoin startup. The wallet is simple and makes it easy for newbie to start using bitcoin onchain and lightning network without having to worry about channels and change from onchain transactions and lightning ones.
This wallet has the following important features:
works on android system;
is not custodial;
seed based backup and restore;
can be recovered with the 12 keywords sequence without loosing 1 sat;
works under the hoods and therefore you have not to worry about establishing channels or liquidity;
can execute a transfer to a standard bitcoin address (this is called a swap and works fine and easy with this wallet); simplified onchain/offchain payments;
unified balance;
no channels management;
It is to be installed on android operating system. At the beginning you just have to create a new wallet or to restore an existing one. Easy, no headache. When you create a new wallet you can immediately try to receive funds creating an invoice even if you did not define any channel. Infact the wallets does everything by itself.
After received the first incoming payments, you are immediately ready to send payments with a single tap.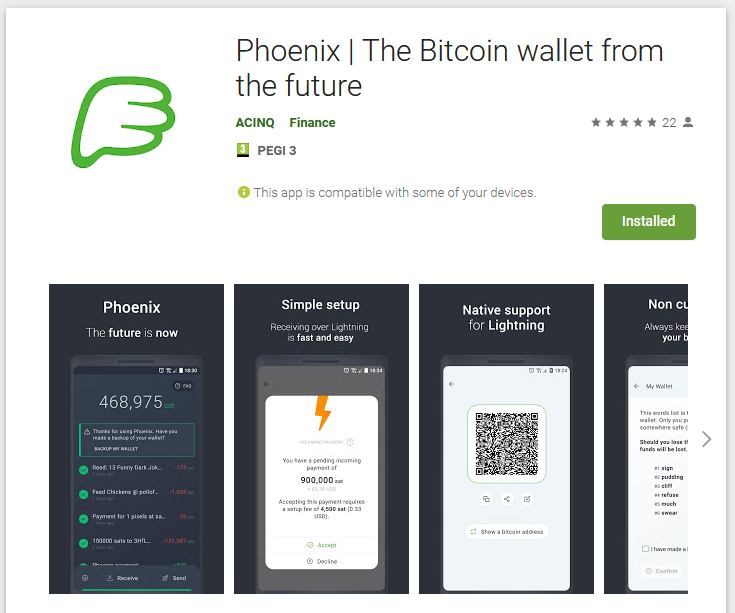 Easy wallet setup
This wallet is great because all the technological burdens of lightning network are kept out from user sight. Channels, liquidity and so on are invisible to the user who has not to be concerned about. For this reason this wallet is the ideal for medium skilled people who want immediately to enter the lightning network from their phone.
Swap wallet feature
Another great feature of this wallet is the possibility to send standard onchain payments to ordinary bitcoin addresses without any hassle. This is the swap feature.
Once the wallet detects the swap to a bitcoin onchain address, it prompts for additional fees (due to mining) and then the payment goes directly to destination address. All in the same wallet without concerns. Let me say that this is really a great feature for this new wallet.
Non-custodial wallet
An important feature is that this wallet is non custodial. Meaning that you can backup your 12-words sequence on a sheet of paper as usual and access to your funds even if you loose or break your wallet. There is no keys manipulation by the company who produces this wallet. A great feature compared to other solutions like walletofsatoshi for example, where you cannot access and backup your sequence of words.
This wallet works fine also for payments in e-commerce or physical store with its very simple interface. The history is also there to provide a full list of all transactions you have done and the total amount of sats paid.
This is really a big innovation in the field of lightning network wallets; it can bring the simplicity and speed that people needs in order to start adopt bitcoin lightining network as a mean of payment for every day needs and for small and fast transactions.
Not good notice
there is a not good news that comes from wallet scrutiny that we report here below, where it seems that source version on repositories does not match the distributed one. And this is not good for a wallet.
Please help us spread the word, asking Phoenix | The Bitcoin wallet from the future to support reproducible builds via their Twitter!