Debt in the USA is death spiral. People are putting their savings in crypto markets and in bitcoin value
Tim Draper speaks about bitcoin
In China great news: Merchants are not legally allowed to accept bitcoin and cryptos as payment methods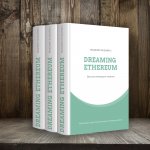 Download free eBook "Dreaming ethereum"
Get this new eBook with important informations about blockchain, wallet generation and tips to make your digital funds secure and safe.
Get it now for free!
---

GUTE-URLS
Wordpress is loading infos from ccn
Please wait for API server guteurls.de to collect data from
www.ccn.com/investor-us-de...